Meat boxes
Welsh Mountain Badger Face meat is superb and produces medium sized cuts of exceptional tenderness and flavour. A number of society members sell fresh lamb, mutton and hogget direct to customers in season, with collection from the farm, local delivery or couriered across the UK depending on the supplier. Contact details are given below.

---
Lambskins and wool products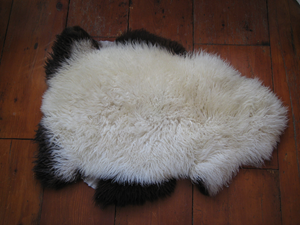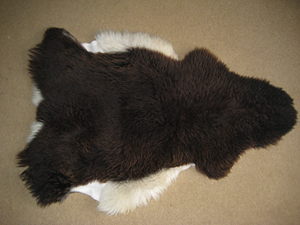 Torddu lambskin Torwen lambskin

Both varieties of Badger Face produce beautiful, luxurious lambskins and wool products which can be bought from some of our members.
---
Contact details for members selling meat boxes, lambskins or wool products
Name

Location

Phone number

Website & email

For sale

Collection only or courier




Lucy

Levinge

Herefordshire

HR2 0QD

01981

550685

Lamb and hogget boxes

local delivery






Robin

Jones

Gwynedd

LL49 9SG

01766

515 459

http://www.webdesignfromllyn.info/hnb/index.htm

Lamb boxes

local delivery




Debbie

Kingsley

Devon

EX20 3PS

01837

810569

http://www.southyeofarmwest.co.uk/

Lamb, hogget & mutton boxes, Torddu & Torwen lambskins, Torwen & Torddu raw fleeces for spinning.

Courier service across the UK




Glyn &

Gaenor King

Carmarthenshire SA15 5BH

01269

871669

lamb boxes

local delivery




Alison

Kennedy

West Glamorgan

07821

865824

Torwen fleeces




Morys Ioan

Llandysul, SA44 6LX

Lamb boxes

Ceredigion delivery




Tracy Kind

Horncastle, Lincolnshire

07751 172657

Hogget

Collection or local delivery