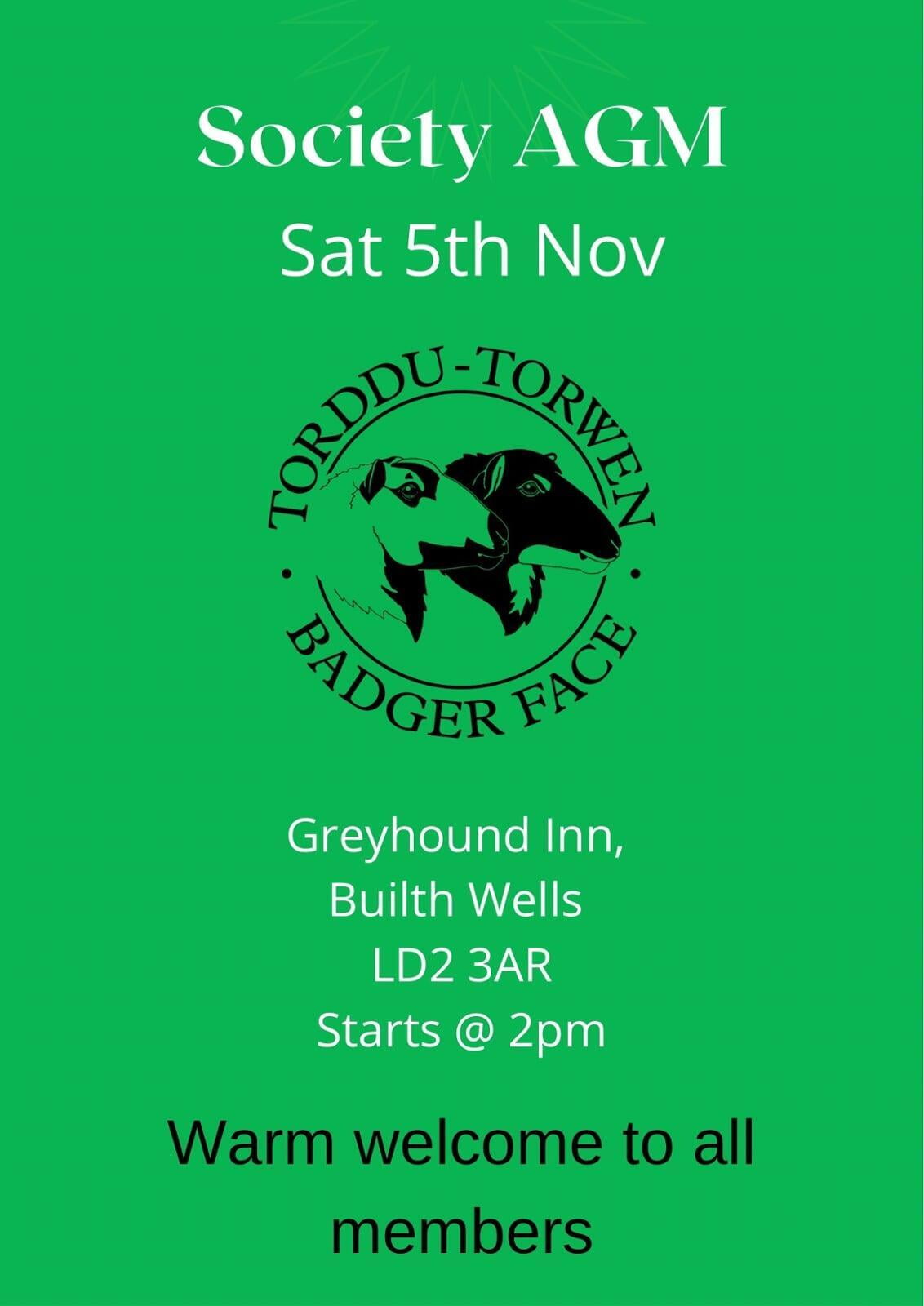 Society AGM
​
Society AGM to be held at the Greyhound Inn, Builth Wells Saturday November 5th at 2pm.
​Please click here for a copy of the agenda.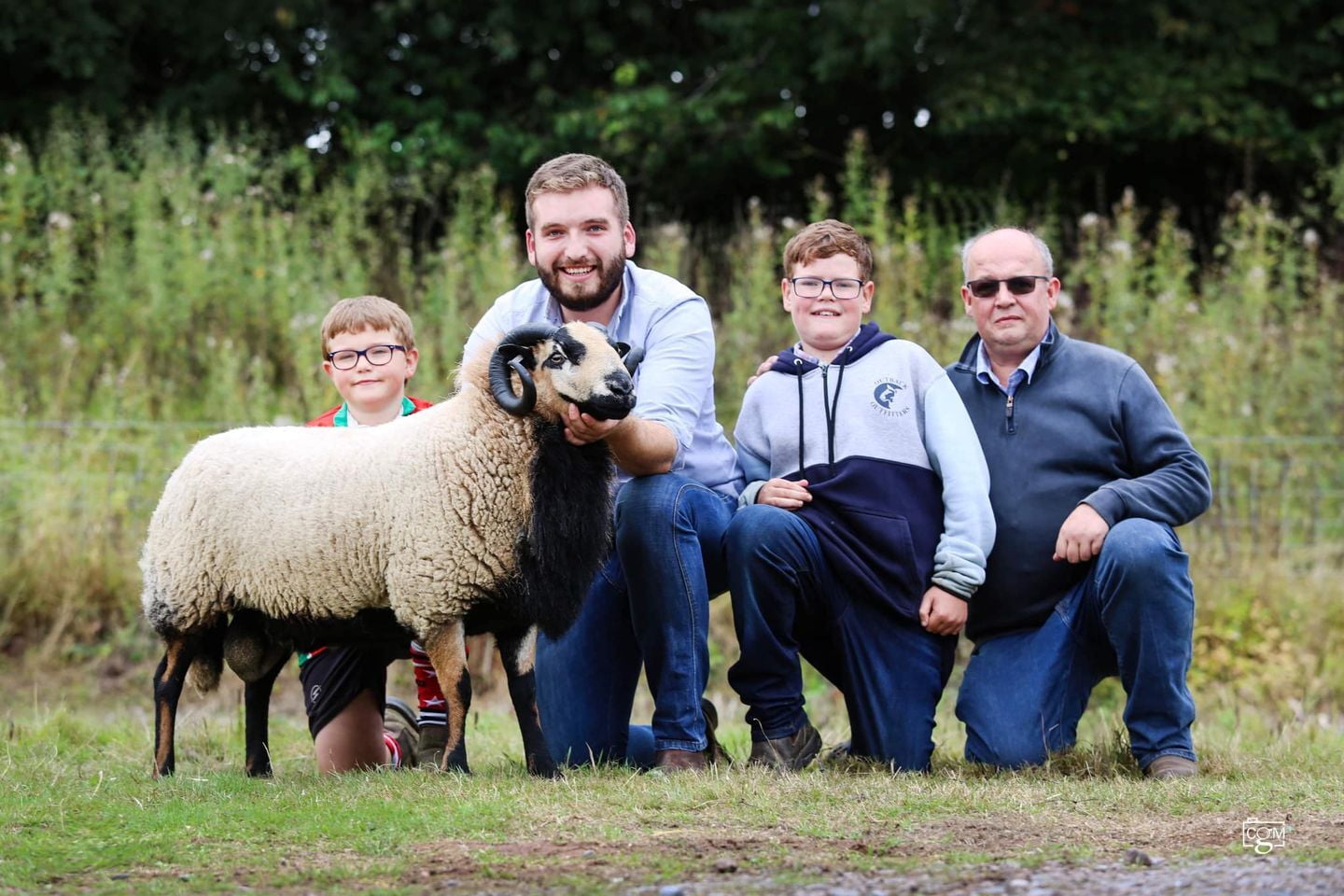 Official Society Sale Report
The breed record for a Badger Face Welsh Mountain was smashed a whopping five times at Brecon on Sunday with the final record standing at 2300gns for a yearling Torddu ram from Gaenor King and grandson, Sean Jeffreys, Carmarthenshire.
Having stood second in the pre-sale show, this one is sired by the 2022 Royal Welsh Show reserve breed champion, and after spirited bidding he was finally knocked down to Neil Dillon and family, Carmarthenshire, for their Gannolds flock.
Just shy of that at 2200gns was Lot 114, another yearling ram, this time from Aron Hemmings. He was sired by the sire of the 2018 and 2019 Royal Welsh champions. Lot 114 was reserve champion Torddu at the Spring Festival and reserve male champion at this year's Royal Welsh, as well as overall champion in the pre-sale show on Sunday. Taking him home was the Richardson Family, Chepstow, Monmouthshire.
Next up at 1900gns was the Joseph family, with another yearling Torddu Lot 125. Then Liz Davies' sold their best yearling Torddu Lot 122 for 1800gns.
Having set the breed record at 1700gns at last year's sale, mother and daughter team Lucy Levinge and Ellie Layton sold Lot 132 for 1750gns.
Torddu ram lambs met a very strong trade with Gaenor King and Sean Jeffreys dominating this section as well. Selling for 1450gns was their first prize winner from this year's Royal Welsh Show, he also stood second in the pre-sale show.
Two lots sold for 1300 gns, the first being Lot 152 from Jones, Highview and Lot 159 from previous vendor and buyer Liz Davies. The pre-sale 1st prize ram lamb from Huw & Kate Williams sold for 1000gns.
Torddu females met a top call of 600gns for a ewe lamb from Aron Hemmings. Meanwhile, shearling ewes hit a high of 420gns on two occasions, both from the Joseph family.
Having topped the Torddu section, Gaenor King and Sean Jeffreys then went on to secure the top price on the day in the Torwen section. Their Torwen ram lamb, who was second at the Royal Welsh and in the pre-sale show, sold for 1000gns. The top priced yearling ram, again from Gaenor King and Sean Jeffreys, sold for 750gns.
Leading the female trade at 530gns was Lot 217, a yearling ewe from Huw and Kate Williams, whilst the top priced ewe lamb, which stood first and reserve overall champion in the pre-sale show, from Dafydd Lewis, Llanwrda, Carmarthenshire sold at 350gns. Dafydd Lewis also won the champion pen of ewe lambs for his pen of 4 torwen ewe lambs.
Torddu: 38 ewes £246.75; 54 ewe lambs £199.20; 28 rams £837.75; 17 ram lambs £590.77
Torwen:14 ewes £273;21 ewe lambs £171; 11 rams £411.40; 10 ram lambs £436.80
McCartneys Rural

Photo - Country Girl Media
Official Society Show & Sale Catalogue
To download/view a copy of the catalogue please click
here
.
11th September 2022
Brecon Livestock Market
Show @ 8am
Sale @ 10am
(Both Torddu's & Torwen's will be shown at the same time)
For further information please contact the auctioneers directly or the society secretary.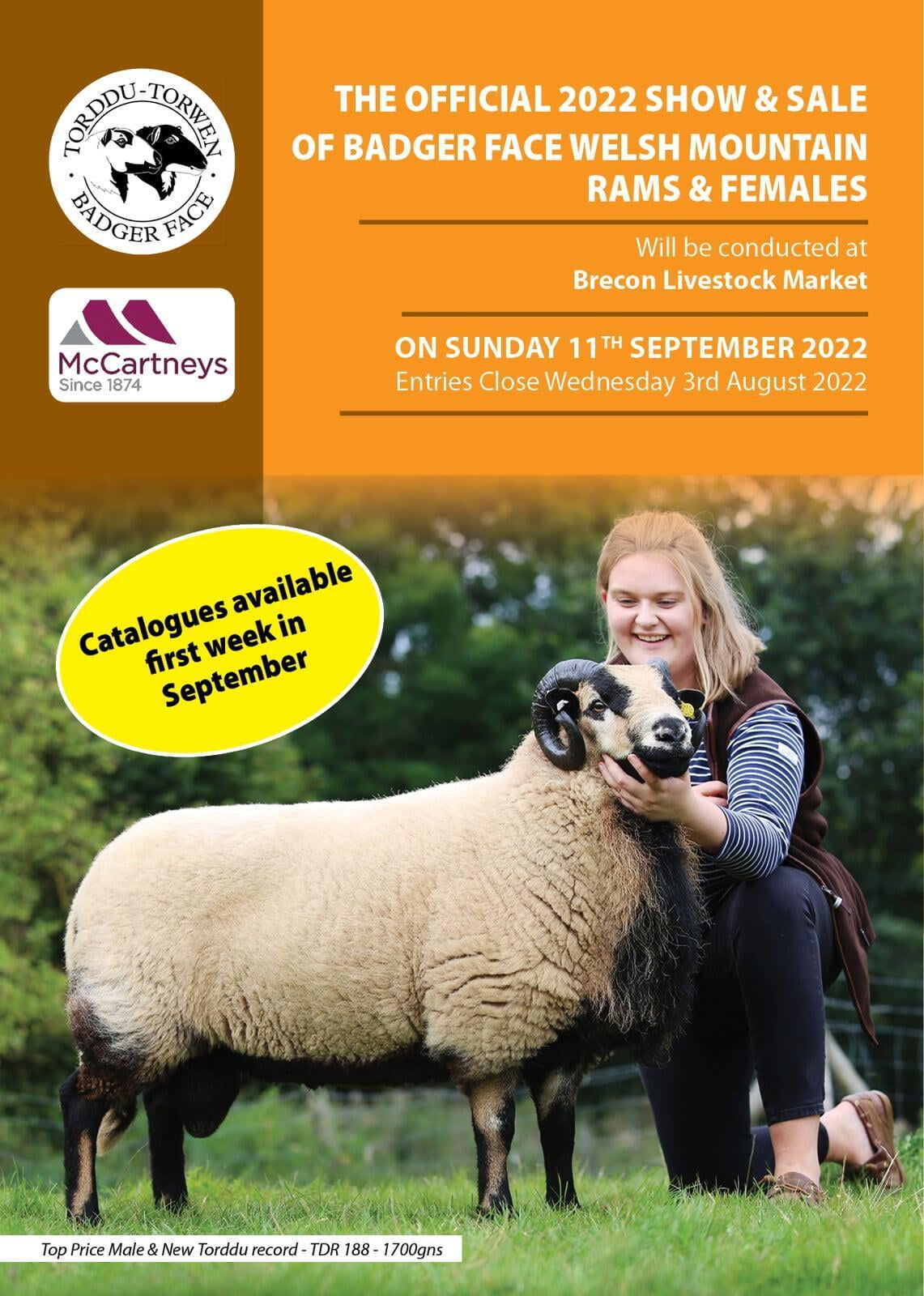 Official Society Show & Sale

The Societies show and Sale will this year year be held in Brecon on Sunday 11th of September.
Entries close 3rd August 2022

For any one wishing to enter the entry forms can be found below.
For Male entry forms please click here.
For Female entry forms please click here.
All forms are to be returned to the auctioneers office.



Welsh Winter Fair Results

Badger Face Welsh Mountain Sheep dominate the Welsh Mountain & Crossbred sheep classes at this years Welsh Winter Fair!
1st - Kevin Davies
2nd - Price Jones
3rd - Ioan Jones
4th - Emyr & Hannah Evans
5th - Richardson Family
6th - Lynn Williams
The winning Torddu pair from the Buarth flock went onto take Champion Welsh Mountain Section and Res Champ Pure Hill & Upland and Welsh Mountain Breed.
Lambs had a combined weight of 62.5kg and sold for £170 per head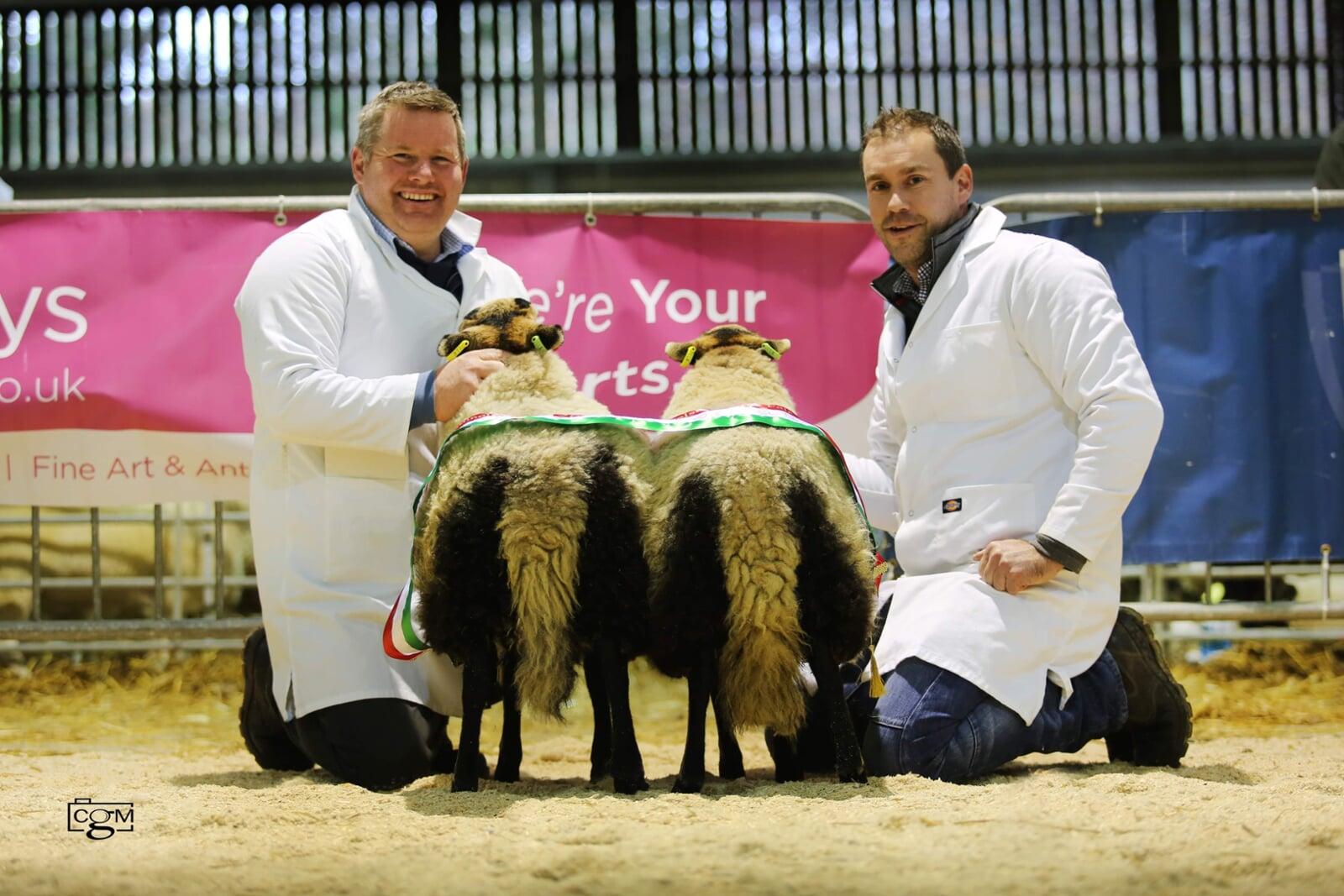 1st - DP Jones
2nd - Maesteilo
3rd -Jill Evans
4th - Martyn & Eryn Stephens
5th - Paul Hancox
6th - Dafydd Lewis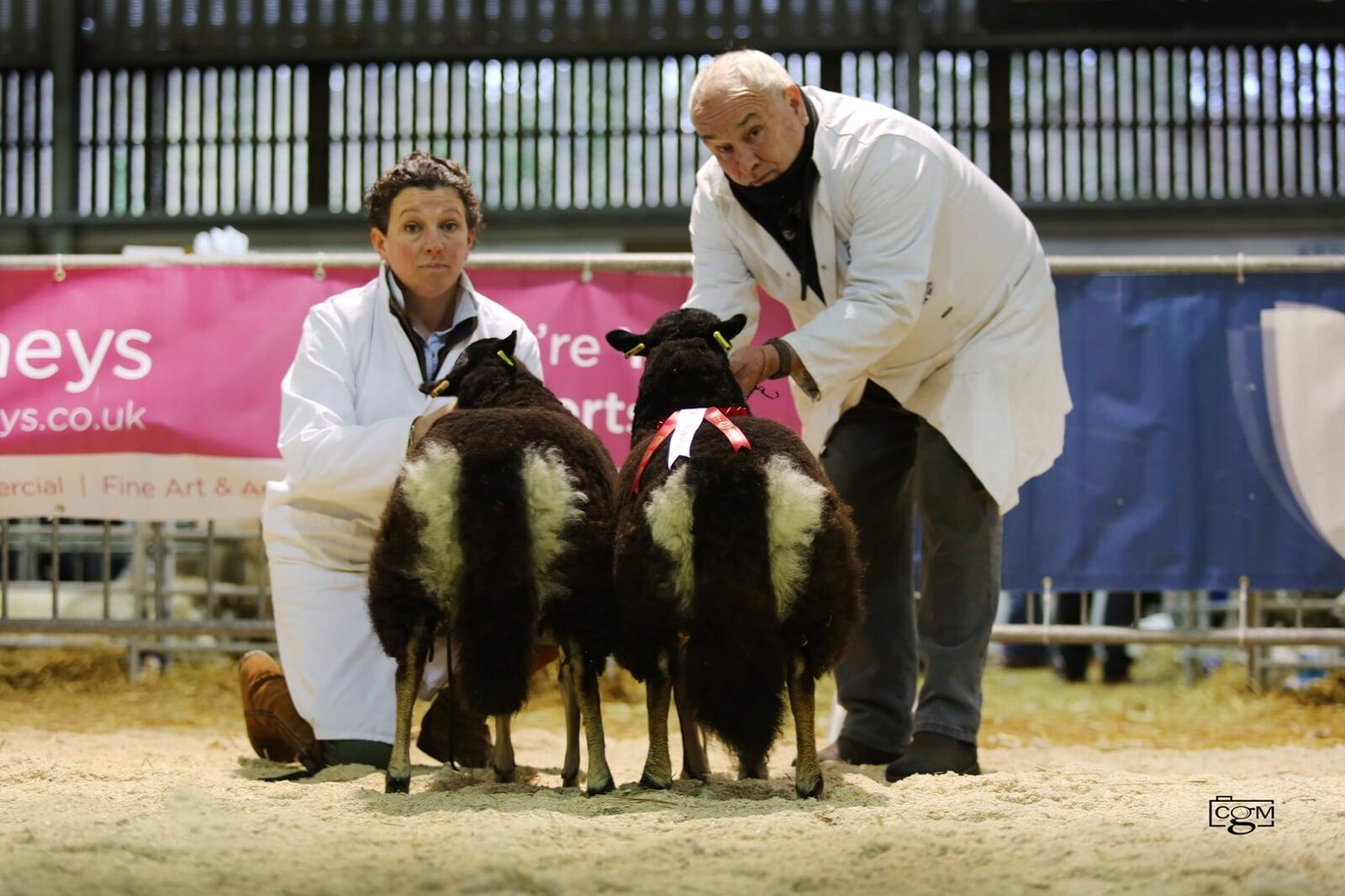 Continental Ram x Welsh Mountain
1st - Jill Evans (Blue Texel x Torwen)
2nd - Shauna Evans (Blue Texel x Torwen)
6th - Maesteilo (Dassenkop x Torwen)
Jill Evans' pair of Blue Texel x Torwens won Champion Crossbred Section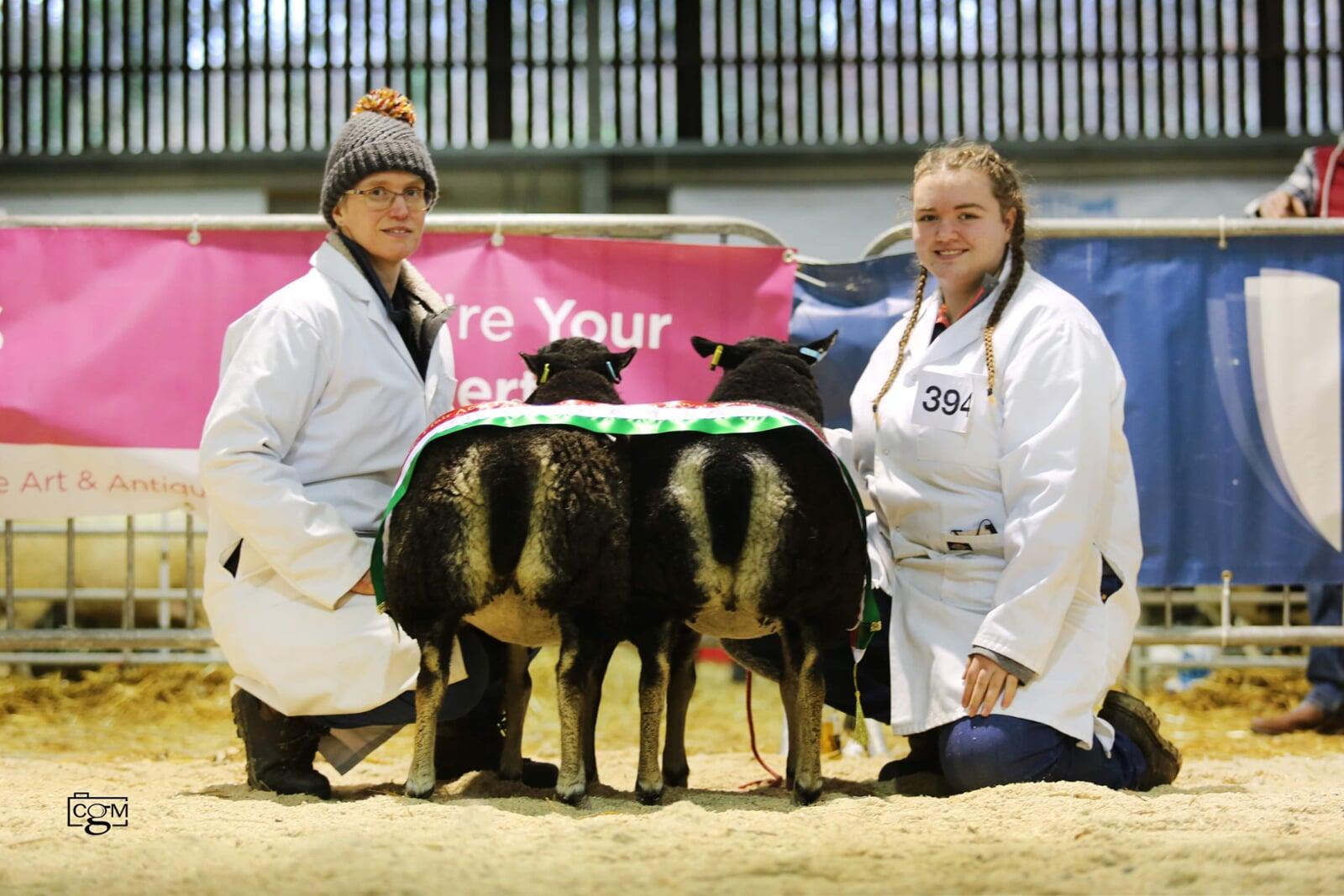 Carcass -

Any pure native up to 32kg
1st - Kevin Davies sold for £8.20 per Kilo (14.5 Kg deadweight)
4th - Gareth Vince Jones

Cancelled - Society AGM 2021

Badger Face sheep society AGM has been cancelled.

After listening to the concerns of our members the committee has decided to cancel this years AGM due to the rise in Covid rates within Wales.
The committee has decided to hold an EGM in Spring 2022 in the hope that Covid rates drop & we can hold the event outside.
Sorry for any inconvenience caused; This wasn't an easy decision to make and wasn't taken lightly however as a society it is within our best interests to protect our members & their families.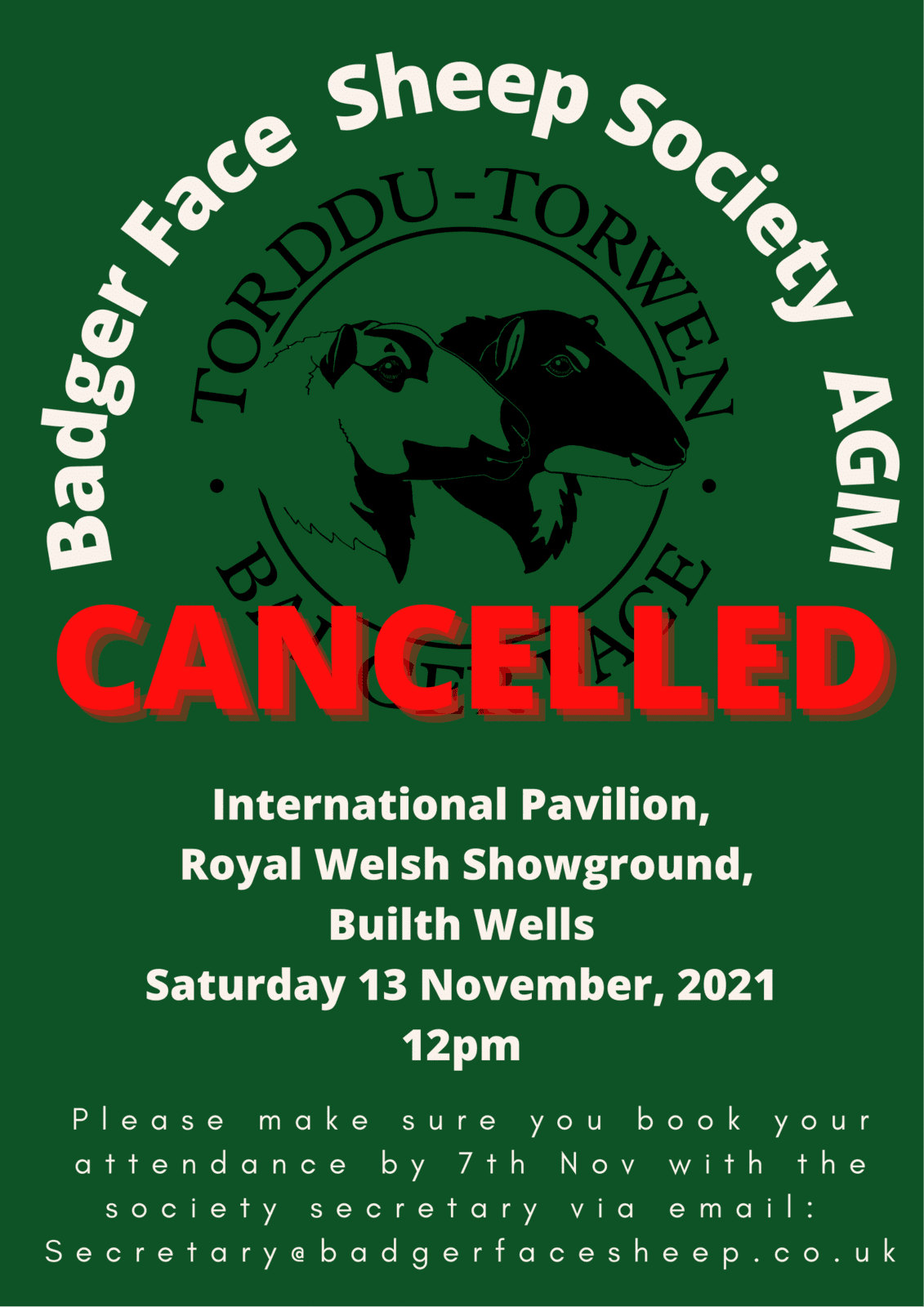 Breed Record at the Society Sale
A new Torddu breed record of 1700gns was set today at the Annual Society Show and Sale, held at Brecon Livestock Market. It was achieved by mother and daughter team Lucy Levinge and Ellie Layton of the Llwyn-On Flock for Lot 95 and purchased by Mr & Mrs Jenny Langford.


Champion Torwen:
Dafydd Lewis - Ram Lamb (Lot 64)
Res Champion Torwen:
GW & MM Jones - Ewe Lamb (Lot 33)


Champion Torddu:
GW & MM Jones - Ewe Lamb (Lot 245)
Reserve Champion Torddu:
Kath Edwards - Ram Lamb (Lot 123)


The Society wishes to thank the judges Mr Dafydd Harries and Mr Gareth Jones.
A special thank you to our sponsors - Caleb Roberts Insurance Services for sponsoring the show and Crystalyx UK for sponsoring the highest price animals in each breed.
Photograph by Country Girl Media
Full Results & Images to follow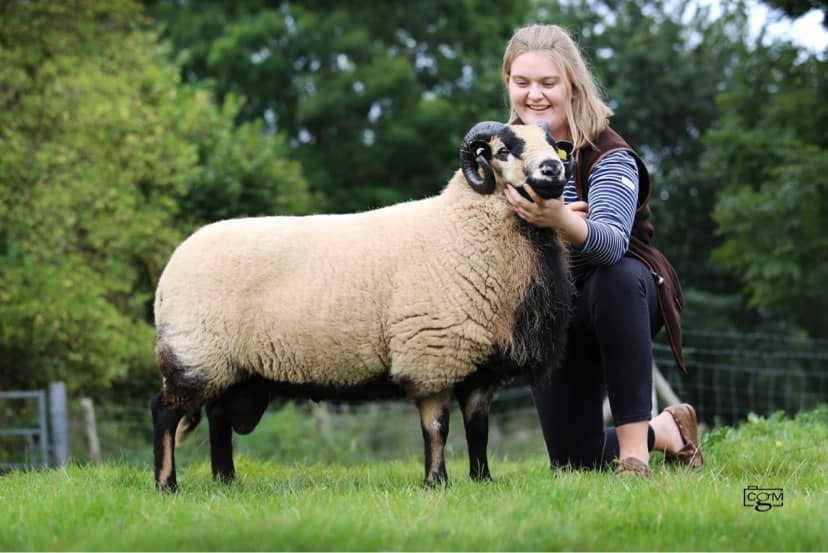 Society Show & Sale

Society Show & Sale Sunday 12th September
Due to a high number of entries forward at this years society sale there has been some changes to the timings.
All sheep must be penned by 7.30am
Showing will start at 8am prompt.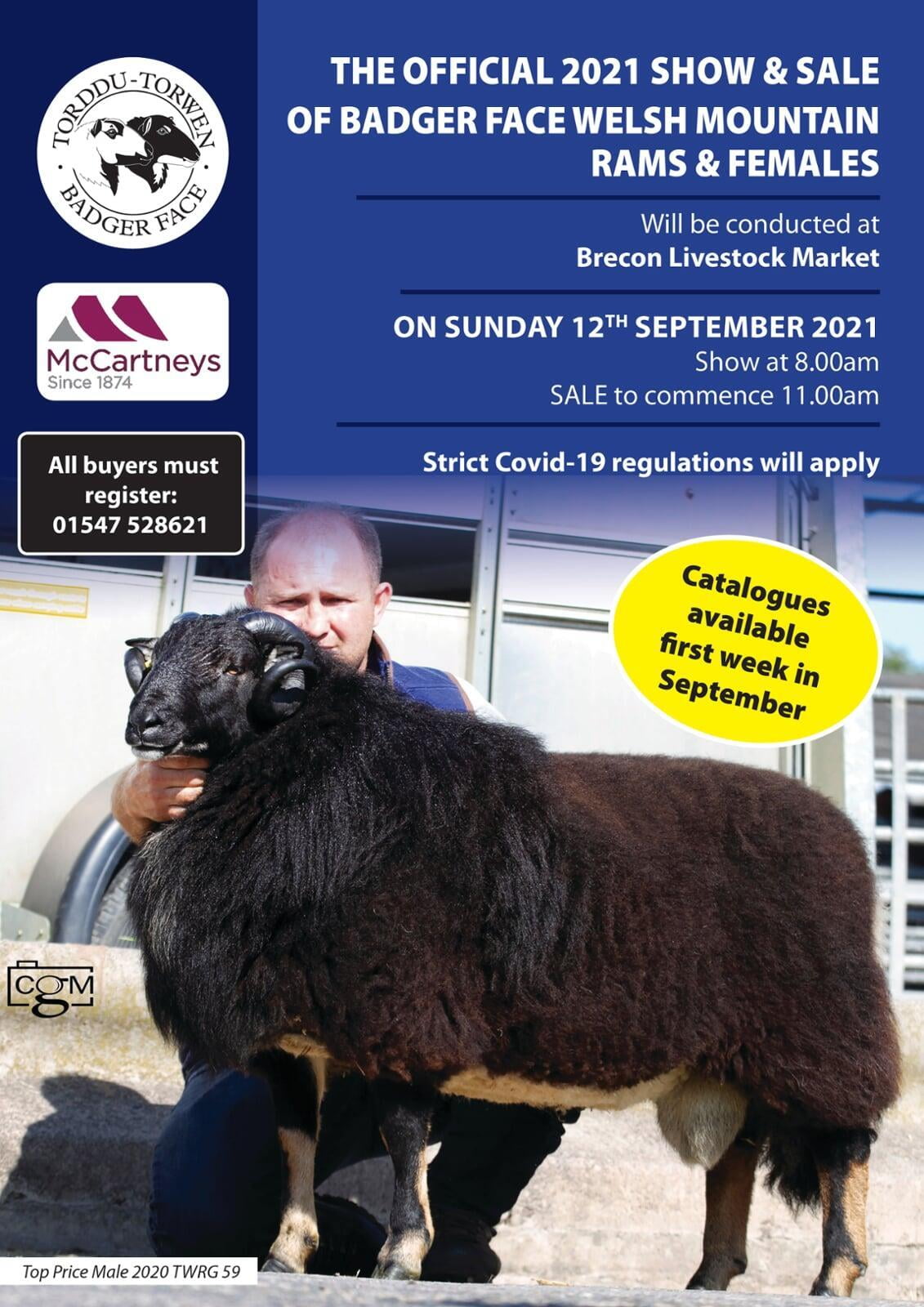 RBST Support
A quick little note from our Chairman regarding the Torwen's on the RBST watch list.
'The Torwen Badger Face sheep continue to be on the Rare breed survival trust watch list and as a society we encourage our members to register correctly marked, true to type lambs.
The future of the Torwen is now in our hands, and it is paramount that we work together for the future.
For any information or advice please contact the society.'
Malcolm Evans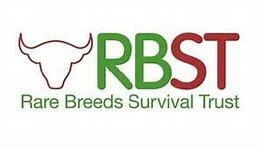 Committee Meeting - Sale update
Following a committee meeting held on Sunday 06/06/2021, it has been decided to hold the 2021 Society Show and Sale at Brecon Livestock Market on Sunday 12th September. Further details will be available in the next newsletter at the end of the month.
For society members who are also NSA members, there is still an opportunity for you to sell registered stock at the NSA on Monday 20th September 2021. Please contact Jane Smith jane@nsaramsales.co.uk for an entry form or visit their website and enter online.


Torwen Badger Face now recognised as a rare breed!
The Torwen Badger Face had joined the Rare Breeds Survival Trust watch list; the breed is currently classified as 'At Risk'. Although it is sad to see that the Torwen has reached such low breeding numbers we hope that as a society this will be a turning point within the breed and that alongside working with the RBST we hope to promote and watch their numbers grow.
As a society we are extremely grateful to Mr B.W.EAGLES BSc B Vet Med MRCVS for all his hard work and efforts that he's put into making the Torwen have the status it deserves.
This is what Mr Eagles had to say regarding the decision - 'I am pleased to report that the Rare Breeds Survival Trust have accepted the Societies application to have the TORWENS classed as a separate breed of Badger Face Welsh Mountain sheep and as such are going to place them on their Watchlist . To achieve this I had to demonstrate that the Torwen has unique genetic characteristics particularly in relation to their colour coat pattern as well as providing information from the last 40 years of flock books.'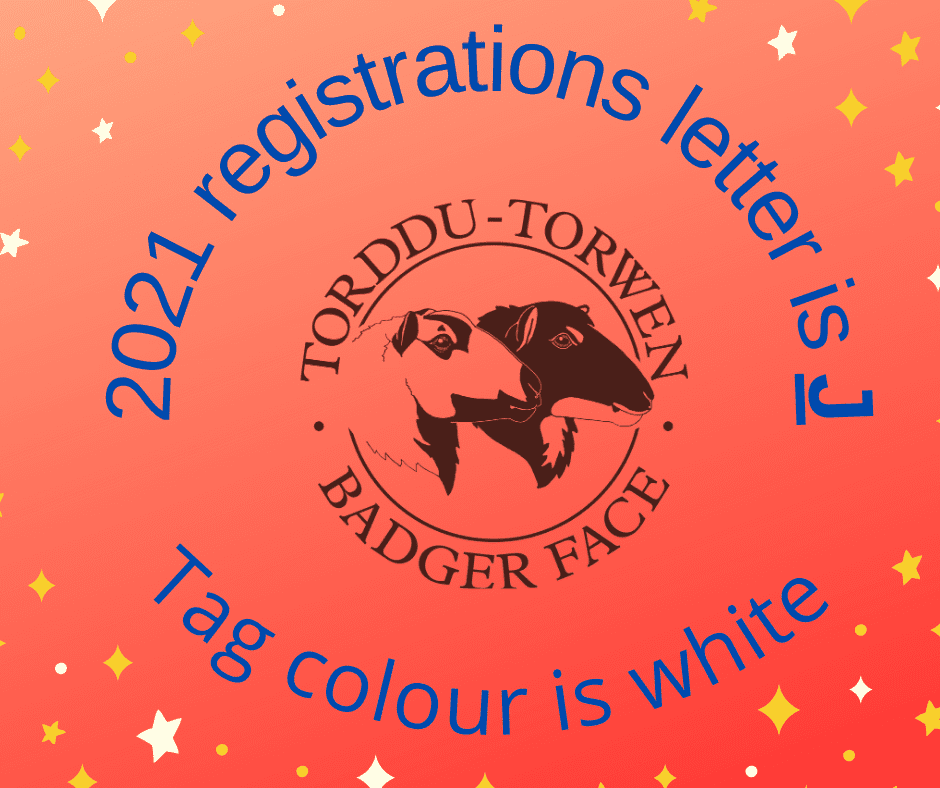 2021 Registrations Letter

The letter of birth this year is J with the society tag colour being White.
If you'd like further information please contact the Registrations Officer.

You can find the details here as to how to order the female section of the tags from Daltons.
New E-Communications Officer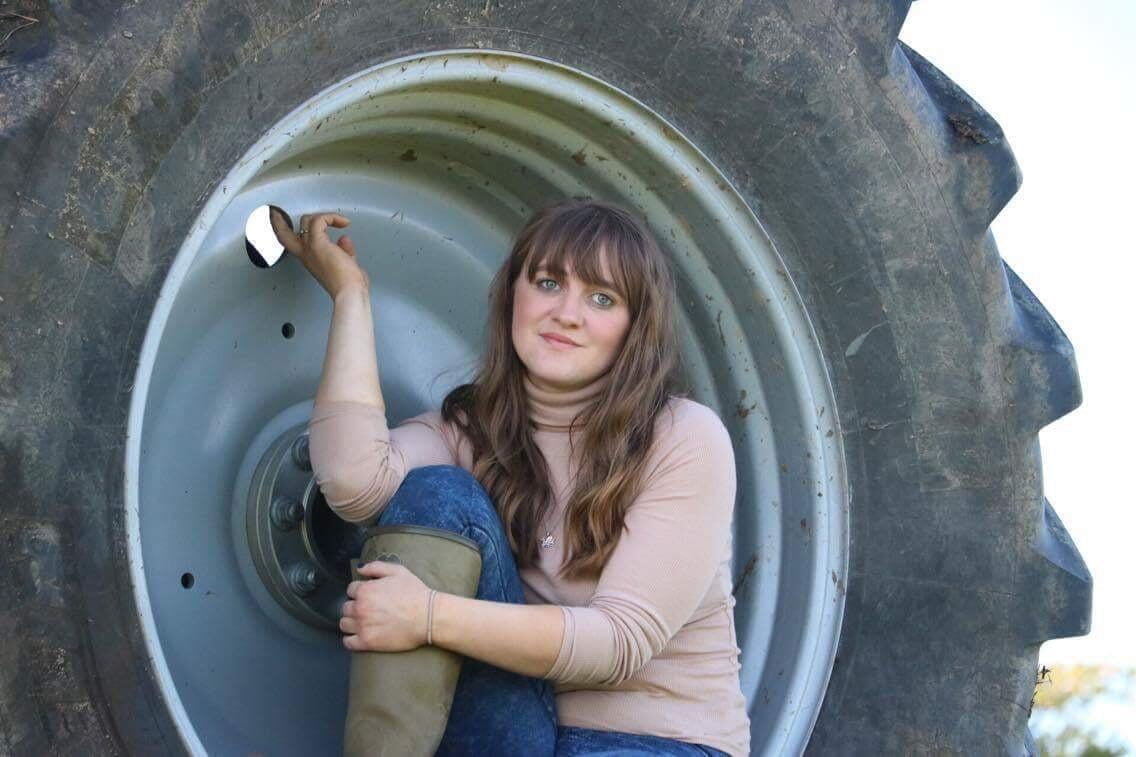 The Society would like to welcome aboard Katy Davies as our new E-Communications officer. Katy is a fifth generation farmer and has a wealth of knowledge within the sheep industry and many good links within agriculture.

Many of you would've seen Katy in shows & sales all over the UK where she's been a familiar face having grown up attending and competing at them.

Aside from coming from a farming background and working as a contract shepherdess on farms all over the UK, She also prepares stock for shows and sales.
Katy also has a large knowledge base when it comes to social media having successfully built up her own portfolio over the years, with a keen eye for detail and the understanding of what it takes to be apart of a breed society we'd like to wish her all the best in her new role.
"I'm looking forward to meeting and working alongside the society, it's members and associate's to help promote this iconic Welsh Breed. If anyone has any questions/suggestions on what they'd like to see on the website/social media pages then don't be afraid to get in touch either via email or telephone.
Look forward to hopefully meeting you all soon, Stay safe. Katy"
Rare Breed Survival Trust Update.
I am pleased to report that Defra and the Farm Animal Genetic Resources Committee
have accepted that the Torwen Badger Face is a distinct breed of mountain sheep. This has now paved the way for the Society to approach the Rare Breeds Survival Trust (RBST) with a view to placing them on their Watchlist. An application was submitted in September and I understand will be considered by their board in November .If we are successful I anticipate they would be placed in category 4 which is classed as AT RISK .having less than 1500 registered breeding ewes. It is of interest that this is the same category as the Balwen and the Hill Radnor.
B.W.EAGLES BSc B Vet Med MRCVS
======================================================
NSA Wales & Border Ram Sales Online Only for 2020
It is with deep regret that the NSA Wales & Border Ram Sale Committee has made the very tough decision to cancel the sales in 2020. The sales will not be going ahead this year, in the light of the ongoing Covid-19 pandemic and recent updates from both the UK & Welsh governments. Instead a free online register will be created to link NSA member vendors to potential buyers. The decision was left for as long as possible, in the hope that the situation might improve by August. However, with current social distancing regulations and restrictions on large events, the health, safety and well being of buyers and sellers and everyone involved in the sales is the main priority. Full details of the online register will follow later this week but I wanted you to be aware of our decision as soon as possible. Thank you for your ongoing support and we hope to be back in 2021, better than ever.
Provisional 2021 dates are as follows:
Early Sale August 2nd 2021
Main Sale September 20th 2021
Yours sincerely
Jane S Smith

=====================================================
Covid-19 update

Annwyl Aelodau / Dear Members
You are all aware of the current national situation regarding Covid-19. The Society has no option but to cancel the committee meeting that was scheduled for 19 April and the Spring meeting on 3 May.
A number of members who regularly participate in local and national shows will know that several societies have either postponed or cancelled this years shows. Our advice is that members should check with individual shows in order to get the most up to date information.
The next society newsletter is still planned for the end of March and the Society Flockbook at the beginning of May. However, I must stress, that I can give no assurance of an accurate date, due to the ever changing daily situation that may affect Society officers and/or the printers the Society uses. I appreciate that not all members are on Facebook, so can I please ask you to share this message with fellow members who are not on-line. There will also be an update in the newsletter.
Farming is well known for being an industry that can be lonely at the best of times, and this current situation that we all find ourselves in is worrying for us all due to many different reasons. Don't be afraid to ask for help and if anyone needs a chat don't hesitate to pick up the phone to myself, any of the officers or committee members.
The country finds itself in an unprecedented situation and therefore it is imperative that we all follow Government and medical advice. Now is the time for us all to pull together, support each other and be kind.
Diolch / Thank you
Malcolm
The Badger Face sheep stand set up at the NSA sheep event in Malvern.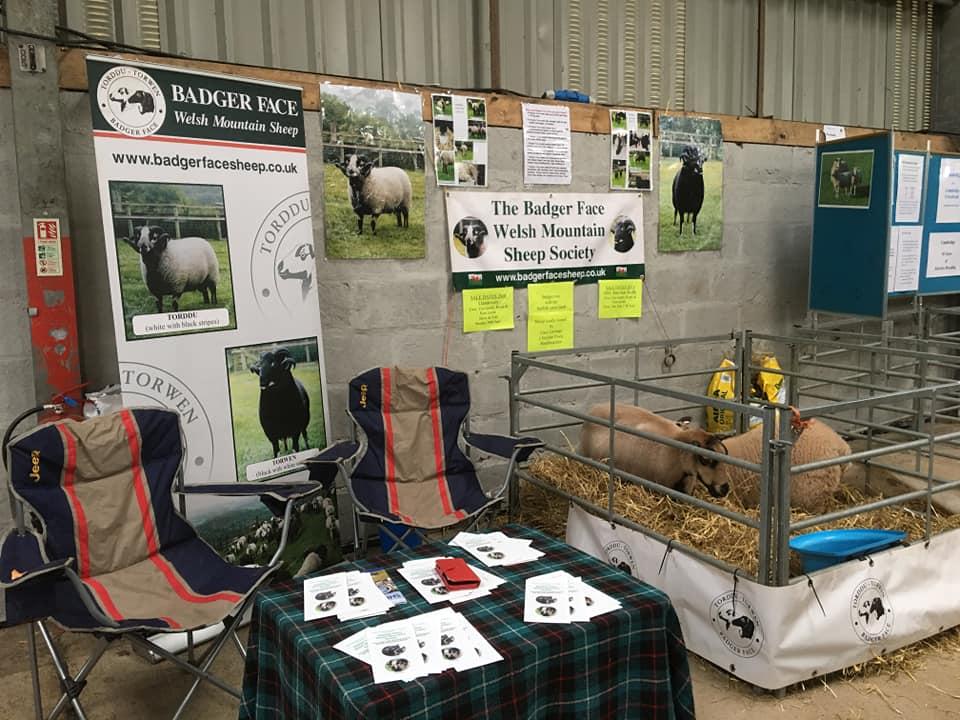 =====================================================================

Want to join?
Join the Society to participate in the shows and sales, register ewes and rams, and share your interest and enthusiasm for this fascinating breed with over 300 like-minded members. It costs just £25 to join the society or £10 for under-16s. Complete the online form or download it here.